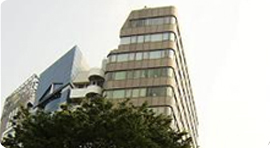 Tohei Sangyo Corporation is an integrated business enterprise with manufacturing ability. We started our business from carbon products and operate businesses across five industries.
About Us
Company Name

TOHEI SANGYO CO.,LTD

Head Office

〒160-0022 
Ekure Shinjuku 10F 11-6, Shinjuku 3-Chome, Shinjuku-Ku, Tokyo, Japan

Contact

TEL
+81-(0)3-3356-3395
FAX
+81-(0)3-3356-3394
E-mail
info@tohei-sangyo.co.jp


Corporate Officer
Chairman : Hidetoshi Aikawa
President : Shuichi Fujimoto
Date Established
April 1, 1977

Trade Map of Asia

Offices/Factory

●Kyokai Shoji (Shanghai) Trading Co.,Ltd.

〒200336 Maxdo Center 2506, No.8 Xingyi Rd. Shanghai,China

TEL: +86-21-52081416
TEL: +86-21-52081417
FAX: +86-21-52081418

●Tohei Sangyo Korea CO.,Ltd.

〒04533 1106,Eulji-ro 16-gil,Jung-gu,Seoul,Republic of Korea
TEL: +82-(0)2-778-7897
FAX: +82-(0)2-778-7896

●Tohei Hygente Trading (Thailand) Co.,Ltd.

〒10120 47th Floor, 1 Empire Tower, Unit 4703 South Sathorn Road, Yannawa, Sathorn, Bangkok,Thailand

TEL: +66-(0)2-686-1236
FAX: +66-(0)2-686-3433

●Fuji Seiko K.K

〒252-0244 3224-14,Tana,Chuo-ku,Sagamihara city, Kanagawa, Japan

TEL: +81-(0)42-764-3036
FAX: +81-(0)42-764-3032

●Zhejiang Shinner Techno Carbon Co., Ltd.

〒314100 No.36TianShan Road, Huimin Street,JiaShan Country ZheJiang Province, China

TEL: +86-(0)573-84292086
FAX: +86-(0)573-84292010

Our Business

・Our carbon business began with precise processing of carbon jig, and also the precisely machined metal and ceramics products are on providing now. We are eagerly looking forward to meet our customers' needs with the advanced MC/NC machinery.
・We are actively expanding our international business based upon our offices located in China, Korea and Thailand, through which we expect to provide high quality and high value Japanese products to overseas customers. Also we purchase low-cost materials from overseas for Japanese local market.
・The exports of Japanese high quality Synthetic Graphite and C/C composite are supporting our solar business, and products are processed by and sold from our overseas factories.
・Our precision machinery and precise measuring instrument business are composed by various parts. Includes the manufacture and sales of "Evaluation equipment for interfacial property of composite material", consignment of machinery assembly, and the economization and lightweight reformation.
・Our IT solution business provides counsel on productive efficiency and construction of paperless system. We also provide translation of instructions of precision machinery.